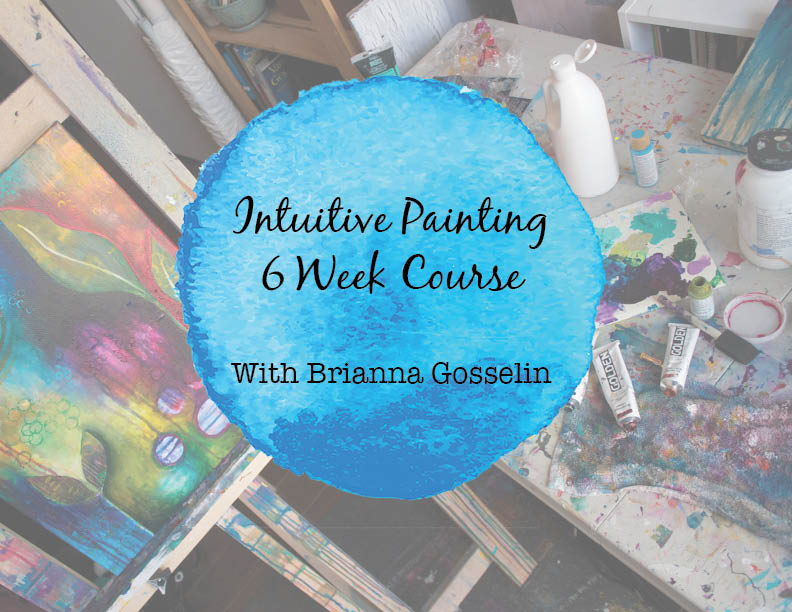 Course Description
Intuitive Painting Course With Brianna Gosselin
@ the STUDIO | 302 Park St, Peterborough

Tuesday, May 1 – Tuesday, June 5
2:00 pm – 4:30 pm
Only 3 spots remain!
Regular Admission: $240
Early Bird Admission: $200 (Register before April 10 and save $40)

A 6 week art course exploring the world of Intuitive Painting.
Learn the art of intuitive painting and exploring the process of creating rather than only being concerned with the finished product. We will be exploring how to approach the canvas, paint application, mark making, texture choice, warm vs cool colours, colour theory and layering. Learn to listen to your intuition and trust in the creative process, discover what emerges between each layer of paint and bring out what comes naturally. To gain a better understanding of the techniques used with Intuitive Painting, we will go through the process of two different paintings as a group, step by step. Weekly art journal activities will be assigned to allow our creative minds to continue working when not in the studio.
To help achieve our own unique style and better understand the techniques used with Intuitive Painting, weekly art journal activities will be assigned to allow our creative minds to continue working when not in the studio.
Download the course outline to discover what creative adventure awaits you each week.
Registration
Pre registration and payment is required to reserve your spot for this event.
Register now (before April 10, 2018) for the early bird special price of $200!
Payment can be made upon registration through this website by paypal, by sending an e-transfer to briannagosselin@hotmail.com, cheque or cash.
Please note 24 hour notice is needed for a full refund due to cancellation prior to the first class.
Refunds will not be extended after the second week of classes.
To register online, please click on the course day and time that you prefer.
You will then be taken to the online registration page, where you will be asked to fill out an information form. Once completed, you will be prompted to payment, if you do not wish to pay with paypal you can skip this step.
I will still receive your registration form and will be in touch with you in regards to payment.
Payment can be made with paypal, cash, cheque, or by sending an e-transfer to briannagosselin@hotmail.com
If you have any further questions, please don't hesitate on sending me a message or by calling 705-931-0252.
Tuesday, May 1 – Tuesday, June 5
2:00 pm – 4:30 pm
Materials List
Required Materials:
Acrylic Paint: Red, Blue, Yellow, Black, White AND a variety of any colours that speak to you, they can be vibrant, bold, or neutral. It is important to select colours you find inviting.
Acrylic Gloss Glazing Liquid: This medium is essential to the Intuitive Painting process and will help create transparency through our layering process.
Brushes: Foam brushes (mod podge ones-these can be purchased at the dollar store) and a variety of brushes you prefer to use.
A Spray Bottle for Water (these can be purchased at the dollar store)
A variety of mark making tools you find interesting: sticks, hair clips, stamps, corks, string, stencils, comb, etc. (Not required for first class)
Canvases. During the first four classes, we will be working on two group paintings, with the last two classes being a painting you create from intuition. For the first class, please make sure you bring a canvas measuring 8" x 12" or larger. But please no larger then 16″ x 20″ as we do wish to have enough space for everyone to spread out comfortably.
A small notebook or journal. We will be exploring how to record daily findings that are inspirational to us and help us organize our thoughts. These art journals/notebooks are personal and you will not be required to show them to the class if you do not wish to.
Please ensure you have the above materials with you for the first class. If you are unsure of anything on this list or wondering which brand to buy, please feel free to send me an email. We will be covering materials and their uses during the first class, so please don't panic if you are missing something on this list. I will have extra on hand for you to use during the first class if you are missing something, but you are required to bring your own supplies after the first class.
If you do not wish to purchase your own art supplies and wish to use the studios, you have the option to do such at the additional fee of $40 to the course price. This will entitle you to use the studio's paint trays, brushes, acrylic glazing liquid and acrylic paints during class time. Students are required to purchase their own canvas and bring them to class, in addition to any other extra materials they wish to explore.
Location
the STUDIO
The 6 week Intuitive Painting course will take place in my personal studio, which I share with a local designer in Peterborough, Ontario.
On the stairway leading up to the STUDIO, you will witness a beautiful wood cut design on the wall. This abstract piece is what captured my heart when I first came too look at this space. With its charming wooden floors and many windows, this cozy space is full of creativity which I can't wait to share with you.
In addition, the studio offers…
Air conditioning and heating.
Comfortable seating for 8 (Please note there are only 6 spaces available in this course. This will ensure everyone receives one on one mentorship.)
Two working sinks, with our paint sink being in the kitchenette area.
Water and a variety of herbal teas for your enjoyment
Free parking on street in front of building, in addition to the parking lot next door of the office buildings.
Location:
The studio is located at 302 Park St N.
Situated between Charlotte St and King St. The building is the Kevin Dunn accounting building, main entrance in front with the door on the left and just up the stairs.
Parking is available on the street (or if full, in the lot next door. The dentist/chiropractor building).