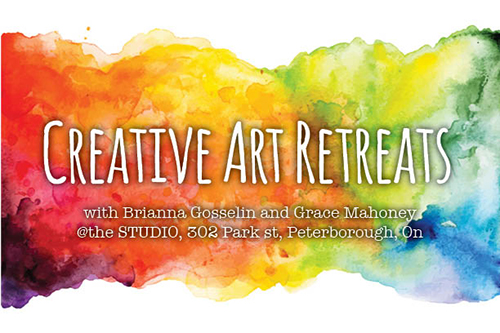 Summer Art Retreat: Exploring Trees 
Thursday, August 16, 2018 
9:00 am – 4:30 pm 
Ages: 15 + 
$125 all materials and supplies included
Bring a friend and you both will receive $25 off your admission! Don't forget to name the person coming with you to the retreat in order to receive your discount.
Take some time off for yourself this summer and enjoy a day of creating with like minded individuals!
Students will be creating two unique art projects to take home with them that day.
Light morning and afternoon refreshments including muffins, fresh fruit, cheese, crackers, herbal tea and juices will be provided for nourishment.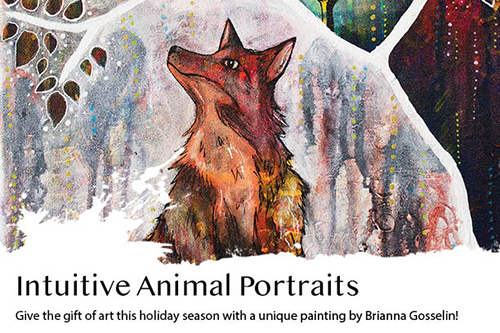 Intuitive Animal Portraits
Give the gift of art this holiday season with a unique painting by Brianna Gosselin!
I am happy to say I will be taking commissions for Intuitive Animal Portraits this holiday season.
There are 10 openings for commissions available, which will be customized to your preference on size and subject matter.
Intuitive Animal Portraits are a reflection of a beloved pet or favourite animal. They are a colourful, abstract impression created through the artists eyes, inspired by the image and description of words presented about the animal.
For more information, please send an email to art@briannagosselin.com for a consultation.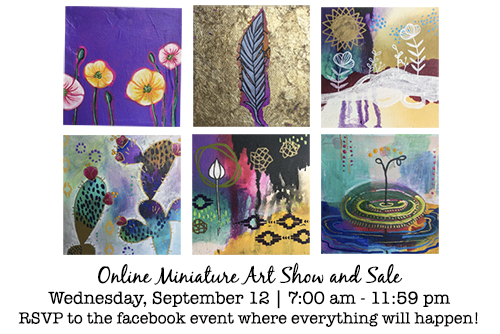 Online Miniature Art Show and Sale
Join me for a special miniature art show and show!
The best part? Not only will you be able to discover new pieces, but you can do so anywhere!
That's right! You can join in on this colourful show and sale in the comfort of your own home, on your phone, at the office or even on a coffee break.
All pieces will be uploaded to the facebook event page shortly before 7:00 am on Wednesday, February 12. They will have the title, medium, size and price.
When you see a painting you like, simply comment stating you want to buy the painting.
It will be based on a first come, first serve basis.
Once you comment on the piece, I will send you a message that day to confirm your order and total.
Pick up will be available the very next day (Thursday, September 13) at The Studio. All paintings will come gift wrapped and ready to go. Paintings can also be mailed upon request, please note shipping charges will apply.