6th Annual Art School of Peterborough
Super Class – Art-a-thon
Saturday, February 27th, 2016
Individuals from all disciplines will be gathering in the art school to work on their craft for 4, 6 or 12 hours straight in our 6th Annual Super Class Event.
Community members can sponsor an artist with all donors over $20 being issued a charitable tax receipt. Donations go directly to the Art School of Peterborough. As a not-for-profit, we are dedicated to providing professional instruction to both youth and adults in a variety of mediums. The Art School also has both youth and adult bursaries which eliminates financial limitations for anyone wanting to take a course.
Why do I support The Art School and help with fundraising ?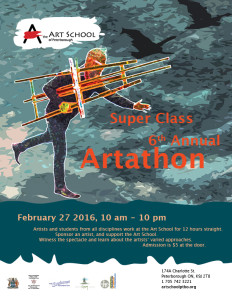 For if I never discovered The Art School of Peterborough, I would not be where I am today.
Before I discovered the art school I was trapped in a career that was draining me more and more each day. I would go to bed with a knot in my stomach dreading the next day, then wake up filled with dread while getting ready to go into work.
My sister encouraged me to try out for the Richard Hayman Scholarship, a program where you apply with a portfolio and are able to study under an artist for the duration of two terms. Upon acceptance, I was filled with hope and an eagerness to get back into the arts.
As time went on through my apprenticeship, I began to feel happiness again as I explored familiar and new mediums and began to be accepted into a creative family within the school. I began to volunteer around the main office at the art school and during their youth art camps. I began apprenticing in the pottery studio as well. Being immersed in the arts gave me the courage to quit my day job and leave the career of hairstyling behind.
I was offered the job of an art instructor and began shadowing other youth art instructors to be properly trained.
Fast forward to present day and I am now a full time artist and art instructor, I have my own studio, I am able to make a living doing what I love most. I have served on the board of directors at the art school, am a member of the marketing committee and was chair of such for a short time. I have created three new programs for the art school, assisted with summer camp programming and am an instructor for such.
Needless to say, if I never would of found The Art School of Peterborough and benefited from this scholarship program, I may not be where I am now living my dream.
The Art School of Peterborough is a sacred place that is dear to my heart and am extremely thankful to have in the community. As I continue to watch it grow, I am honoured to be along for the journey.
As a little gift to thank you for sponsoring me for art-a-thon, you will have the opportunity to win one of my original paintings. For every $10 you donate, your name will be entered into a draw to win Sunbird .
Second place price will win a miniature painting entitled Colour Heart I 
The draw will be done during the half way point of art-a-thon with the winning person announced on social media.

To become a sponsor, please visit this link and remember all pledges over $20 will be issued a tax receipt.
https://briannagosselin.com/wp-content/uploads/2016/02/Artathon-2016_poster_WEBpreview.png
333
500
admin
https://briannagosselin.com/wp-content/uploads/2018/05/Untitled-1.png
admin
2016-02-22 02:14:09
2016-02-22 02:19:46
Art School of Peterborough Art-a-thon