Art in the Street – August 2014
Featuring Brianna Gosselin, Al Black and Steven Leak, Lori Brand, and Carol Lawless
Brianna Gosselin has a pretty good thing going. Her downtown studio at
384-1/2 George St. is a surprising oasis in the heart of downtown Peterborough. Although the front door to the building is right on a busy stretch of George St. between Hunter and Simcoe, the second floor walk-up backs onto a European-style courtyard with a pleasant smattering of trees and greenery.

Brianna describes herself as a dreamer and you can see that in her work. Her canvases reveal an ethereal quality to the natural world. Lately, they're infused with a great deal of happiness as well. She's pretty pleased how her dream to become an artist is taking shape."I like to come here early in the morning," Brianna says. "The sun rising through the windows, the early morning sky — I draw inspiration from that."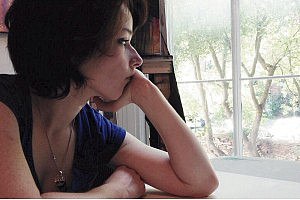 Brianna's early experiences in creativity were provided by her mother, who made arts and crafts a regular of play and their daily activities. When she went to school at PCVS, she got the opportunity to explore her interest in art further but she was never terribly interested in art school. A formal education in art seem altogether too structured to her.
When she finished school she went on to become a hairstylist. To a certain degree, colouring hair and styling was a great creative outlet but eventually she wanted more and took on the scholarship program at the Art School of Peterborough.
Local commercial artist Anne-Marie Kornachuk became one of her chief mentors and taught her a great deal about committing to
her creativity and adding discipline to the inspiration of the dreamer. Creating art is now a full-time endeavour for Brianna, along with the teaching she does at the Art School of Peterborough. If you tune into her Facebook feed, you can see that she now pursues her work with considerable dedication and regularity
Brianna's earning quite a following and her artwork is quickly becoming an enterprise that includes some commissioned

site-specific artwork, prints, and merchandise like cellphone cases and t-shirts. When I asked her about the commercial aspects of pursuing her art for a living, she had a very down-to-earth answer for me: "You have to ask yourself, why are you creating? My main goal is for people to enjoy my art."
Brianna thinks about her own patterns of consumption when she considers how others might experience her work. She loves art and would very much like to be able to purchase original works worth thousands of dollars, but anything more than a couple hundred dollars isn't practical for her budget. She knows it is the same for many others. She's motivated not only by her own success as an artist, but in making the enjoyment of her accessible to as many people as possible.
When she muses about opinions expressed with respect to artistic purity and a history of art academia, she wonders "Why are there so many rules? Why are there so many limitations? Art is to be enjoyed." It seems the enjoyment she shares is not only feeding her happiness but also being picked up by many admirers and customers.
Work she's displayed, showcased at Art Battle Canada, and her regular social media posts have led to many offers. Her current show at the Nuttshell Next Door Café in Lakefield came of a direct contact from Chef Jay Nutt asking if he might display her work. She's also been approached by Rebecca Cooper at the Traynor Family Vineyard and by The Food Forest Café, with both exhibits beginning later in August. Other commissions have come to her from The Silver Bean Café and Tribal Voices in Lakefield.
At a certain point, she imagined applying for grants and finding her way into shows in Toronto and elsewhere; now she has plenty to do just keeping up with the local demand for her work.
"In my head, that's what I thought success was: showing in Toronto," she says. "Now I don't have time."
Brianna's work is on display at Nuttshell Next Door Café (33 Queen St., Lakefield, 705-652-9721) until the end of August. The café is open Monday through Saturday from 8 a.m. to 4 p.m. and Sunday from 10 a.m. to 4 p.m. Gosselin's work will remain on exhibit there until the end of August.
Stay tuned for Brianna's upcoming show at The Food Forest Café (641 George St. N., Peterborough, 705-874-1888) coming later in August.
Read more: http://www.kawarthanow.com/kawarthanowguide/2014/08/05/art-in-the-street-august-2014/#ixzz39dsC7R00
https://briannagosselin.com/wp-content/uploads/2014/08/kawarthanow.png
219
320
admin
https://briannagosselin.com/wp-content/uploads/2018/05/Untitled-1.png
admin
2014-08-07 00:14:20
2015-01-20 23:32:11
Kawartha Now Feature: Art in the Street – August 2014