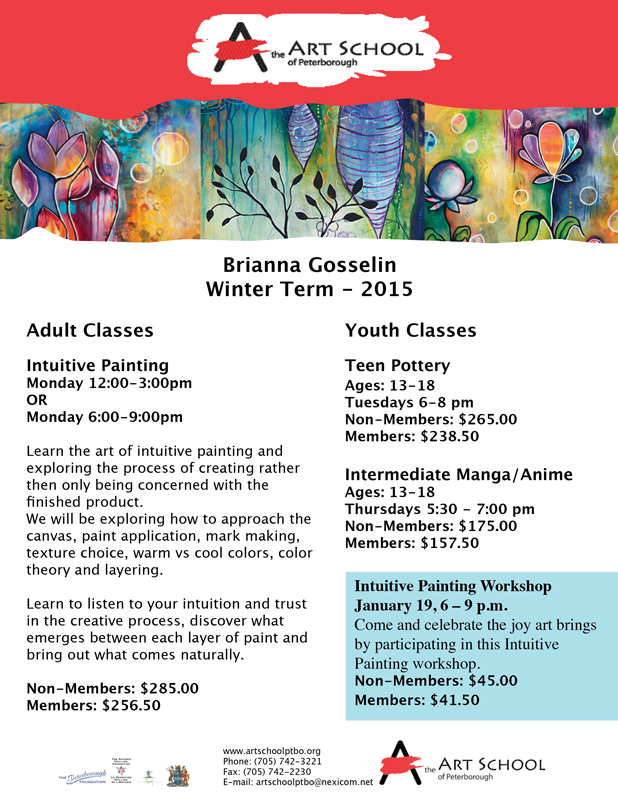 In addition to offering private lessons at the Studio, Brianna is an art instructor with the Art School of Peterborough.
She offers a variety of classes for both teens and adults for the duration of 10 weeks.
For a list of courses and descriptions, please take a look below.
Registration can be done online through the links provided and are completed through the Art School of Peterborough's website.
Intuitive Painting 
Monday Afternoons 12:00 pm – 3:00 pm
(Register Now)
Monday Evenings 6:00 pm – 9:00 pm
(Register Now)

$285
Learn the art of intuitive painting and exploring the process of creating rather then only being concerned with the finished product.? We will be exploring how to approach the canvas, paint application, mark making, texture choice, warm vs cool colors, color theory and layering. Learn to listen to your intuition and trust in the creative process, discover what emerges between each layer of paint and bring out what comes naturally
Teen Pottery I
Tuesdays 6-8 p.m.
Teens – ages 11-18
$265
This pottery class is geared to older youths and teens. The course will focus on experimentation and expression of individuality while working with clay. Teens will do plenty of wheel work and hand building, working on age appropriate projects, in an atmosphere of like minded peers.
(includes clay, glazing and firing).
Teen Manga
Thursdays 5:30 – 7:00 pm
Teens – ages 10-17
$175
Create your own manga and learn how to draw anime. Learn the proper proportions when it comes to designing anime/manga characters, gain understanding of facial expressions and body language. Proper story line and character development will be explored along with the culture that influences manga.
https://briannagosselin.com/wp-content/uploads/2015/01/BriannaGosselinWinterTerm1.png
333
500
admin
https://briannagosselin.com/wp-content/uploads/2018/05/Untitled-1.png
admin
2015-01-21 22:07:22
2019-03-11 11:52:55
Winter Term at The Art School of Peterborough